We started off the day bright and early to see my Obachan play gateball (croquet) with her friends. She plays on the field of the local high school, and it's intense! I've never seen my Obachan move so fast around a field before (mind you, she's 94!). While I have no idea how it's played, she seemed to be doing quite well. She goes to gateball every morning at 8am and is usually home by 10am, biking the short distance.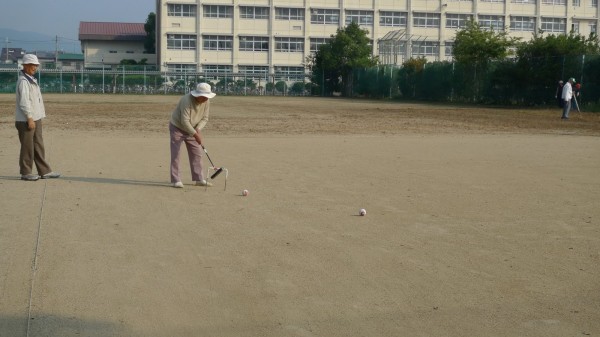 Breakfast was delicious, as usual: cucumber salad, this time with crab, good bread, and more yellow kiwi. I am **addicted** to Hotel Peanuts Cream: this amazing peanut butter that's gooey and much sweeter than regular peanut butter. I will find just about anything to put it on at breakfast, it's that good. It comes in a little white tub, and you spread it with a spoon… heaven.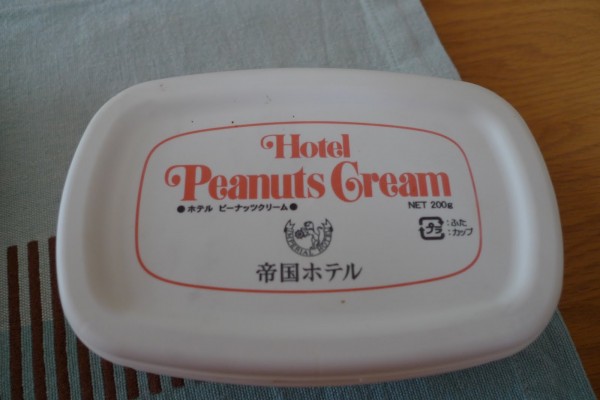 After breakfast, we made a Skype call to my parents, which had a rocky start since we called my dad and he had neither webcam nor microphone plugged in. After brief technical difficulties, we were able to see both my mom and dad and chat with them for a bit. We Skyped with Larry's parents the day before, but it's cool to be able to do it internationally.
We headed off to Ninja Town: Iga-Ueno. Ueno is in the next prefecture (kind of like a county) of Mie (Nara is in the Kansai prefecture), and it was a good hour and a half away by several trains. Thanks to our JR Pass, we can hop onto any JR train. Only the last leg of the trip was by Kintetsu, a private rail company (and as usual, my Uncle Yusan paid for our fares on the Kintetsu leg of the trip. My relatives have been extremely gracious hosts to us). The scenery was lovely – very rural. We snaked along mountains and rivers, sitting on red velvet seats on the train.
As soon as we got off the train, it was time for lunch. We stopped at a little place right next to the station and had a tonkatsu bento box. Tonkatsu is fried pork cutlet coated in breadcrumbs. Rather than the katsu sauce that we normally put on it, this was served with a rich miso paste. A light salad, rice (of course), and taro again. After lunch, coffee. I'm pretty sure my Uncle has a caffeine addiction 😉
I had chugged a bottle of Pocari Sweat (Japanese Gatorade) on the train, so I had to use the bathroom, and omg: it was my worst fear come to life: a squat toilet. However, thanks to the delightful flash animation I had watched earlier, I managed to a) not pee all over myself or b) have to remove all of my clothing from the waist down to be able to actually use the bathroom. However, I refuse to poop in one. Nope, will not do it.
We walked to Ueno Park and made our way to the Ninja Museum. Before the museum, however, was… *drumroll* the Ninja Show! Um, it was awesome. Real weapons, real professionals, real tourist trap 😉 Ueno was one of the two largest ninja training cities in feudal Japan. Today, it's mostly a tourist trap for the Japanese, as we saw only one other gaijin the entire day.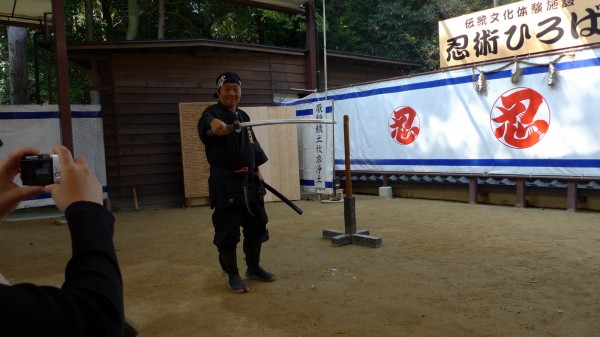 For ¥200 we were treated to 20 minutes of sword and knife demonstrations, as well as some shuriken throwing (you know, ninja throwing stars). Afterward, for another ¥200, we could throw our own, and of course Larry and I partook. It was a little awkward at one point, because the demonstrator gestured to us and mentioned "gaijin" in a fast stream of words (gaijin is the word for foreigner).
We then checked out the Ninja House – trick doors, revolving door-walls, secret hideouts… the ancient ninja were quite crafty. From there it was on to the museum, full of actual ancient ninja artifacts. It was really neat to see so much of the Hollywood version stripped away for fact, because the factual accounts of ninja life and tactics are far more fascinating.
It was time for a coffee break before heading on the next part of our day trip through Ueno. After our refreshing, albeit very strong iced coffees, we headed to the birthplace and home of Basho, Japan's foremost haiku poet. It was the original structure, for the most part, and kept the way it was in the late 1600s.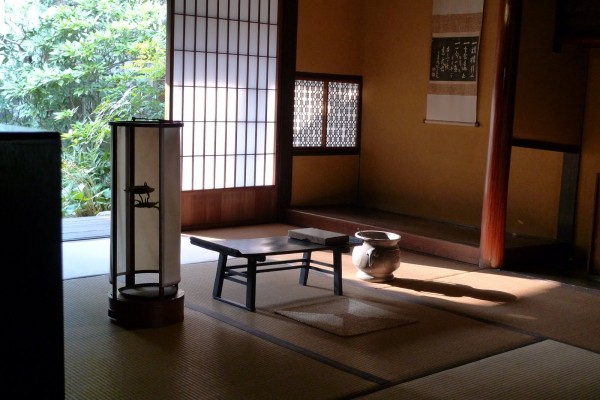 I particularly liked the entranceway to the house: a very short, narrow door that required you to step up. The short height and raised threshold kept one from running right in. The narrow width prevented one from being able to draw their sword upon entering. When you live in Ninja Town, you think of these things and take the appropriate precautions.
We headed back, swapping trains and Uncle Yusan and I dozing off periodically. The trains are so smooth and quiet that it's hard not to fall asleep. Dinner was again, wonderful. Sautéed nasubi (eggplant), broiled buri (adult yellowtail) salad with shirasu (baby sardines), kimchi cucumbers, and some kind of baked tofu stuffed with edamame. Japanese dinners remind me of tapas: little plates of food that everyone samples from to make a complete meal. Even the entrée item (in this case, the buri) is portioned out much like the side dishes; in fact, nothing feels like an entrée or a side dish – it's all equitable, I suppose.
During dinner we watched a TV show called "Kore wa nan?" or simply, "What Is It?" Best TV show ever. We saw a segment about crawfish tempura (you eat the shell) and the hottest gyoza in Japan (different ones stuffed with wasabi, hot mustard, habanera sauce, and kimchi, served with habanera sauce flambé). We then watched a show called Tamishite Gatten, and the ENTIRE show was dedicated to Kaki – persimmons. Specifically, how they get sweeter as they get softer. It was really neat to watch the show and follow what was going on, just based on what Japanese we've picked up, plus the visual cues on the show.
Another hot bath before bed. Tonight, we pack a small bag and head out tomorrow morning into the wilds of Japan for the first time on our own- for two and a half days, no less.
Larry and I are Tokyo-bound.